Why We believe that SBI For Massage Therapy Websites is a Solid Choice for Massage Therapists and Massage Therapy Students!


Why do we believe SBI for Massage Therapy Websites is a Solid Choice?  The answer is simple they provide all the tools and education a practitioner or student requires in order to build a dynamic, professional, and most importantly a profitable massage practice website.  We know your time is precious.
You want a website that drives pre-sold, on massage therapy, clients to your office at a reasonable monthly or yearly fee.  You have a limited marketing budget and you want a website that works for you.  You do not want to spend time figuring out which apps or plugins will give you the tools you need to succeed.
You need a dependable and reliable internet hosting system that comes with dedicated IT support, honest online marketing solutions, a publishing education and scalability as your massage practice and online business begins to grow.  We understand how overwhelming it can be to graduate from massage school, pass your licensing exam and begin your journey as a solo business owner. 
We want to simplify the process for you, that is what we do as educators in the massage therapy industry.  Step one, sign up for your SBI internet website management system.  The system gives you a 10 day crash course on how to set up your website.  You should set aside at least this much time.  Building your massage practice website will be one of your most important marketing strategies. 
Step two, dedicate at least 10 days to learning how to, then building your massage practice marketing website.  You will spend the time in a virtual online classroom.  This time is crucial.  You know yourself better than anyone, if you are a speedy learner then 10 days will work for you, but if you tend to need more time then give yourself more time.  Day one is not the day you begin to build your actual website.  Day one is the day you begin to learn how to be successful as an internet soloprenuer.
Step three, after you have spent the time learning about how to optimize a website, how to choose a reliable domain name and so much more you will begin to create your massage practice building website.  This process should be met with the same dedication you gave to your massage school studies and passing your licensing examination.
Step four, make sure you take action and complete step three.  You can do it.  Build a website with SBI, they help you develop an online business plan.  Once you have the plan in hand, you must begin to put the plan into action.  Procrastination can lead to never every building your website.  If you never build the website you have already failed at the most effective strategy for guiding individuals interested in receiving a massage to your massage therapy clinic. 

How the Massage Therapist can Get the Most out of Step 2: Learning how to create a Massage Therapy Website Development Plan

The SBI crash course is set up as a 10 day action plan.  A major part of the first 5 days is to determine the focus for your online business.  You as a licensed and practicing massage therapist already know the big picture.  You want a massage practice building online referral engine. 
SBI offers a Brain Storm It program that analyses internet traffic to help you develop profitable keywords to bring browser users to your website.  You will use this process to refine your massage practice and find specific massage techniques that are profitable keywords for your massage therapy website, for example abdominal massage or reflexology.
The most popular keyword search for massage is massage in the name of your city, for example massage in Orlando Florida.  This means your city name will be one of your websites, keywords and should be built into your homepage meta tags.  It may be important enough to include in your domain name.  That will depend on how many other massage practices are already using it in their domain name in your area.
The key to driving the best traffic to your website is to utilize Brain Storm It to find specific keywords that actually reflect what you offer.  What is the focus of your massage clinic, spa or fitness center. Narrow your keywords to reflect exactly what your offline business provides in the way of services to your clients.
Just what does SEO mean?  It stands for search engine optimization.  There are some out there on the web that will tell you that SEO is dead and focusing on social media is the key to success.  Do not let them distract you from your goal a profitable online business that supports your service oriented offline career and business.
And Yes, social media is important also.  SBI's crash course tells you what you will need to do to successfully utilize social media to promote your website and massage practice.  There are reasonable ways to pursue social media attention.  All social media is not good, bad reviews can happen and they will hurt your massage practice.  Use caution when considering Social Media, it is favorable to keep personal accounts personal and to create a professional account that reflects your website themes and keywords.
SBI has been teaching individuals that provide services to the 3D community and internet community how to build profitable websites for well over 30 years.  Boy, have things changed and continue to change as the internet continues to influence our daily lives.  The thing about Site Sell as an online business innovator is that they are innovators and continue to develop new strategies as the internet evolves.
Our website getmassagesmart.com has undergone several major transformations over the last 7 years.  We are very happy that Set Sell has helped us keep up with the changing landscape of online business operation and promotion.  To help our students focus on best practices to promote a massage therapy practice we have created a web page about Massage Marketing Tips.
SBI For Massage Therapy Websites
Site Build It guides you through the process of planning your website pages

Trying to decide how to go about building an online presence for your massage therapy practice can give anyone a tension headache.  Site Build It from Site Sell will teach you how the quality of your website's content will reflect upon your offline massage therapy practice.  The people that publish Site Sell webinar's are successful SBI site owners and provide superior guidance as you create your own success.     
The first 5 days of your SBI crash course are not only about deciding upon your domain name and planning your site design, they are also about how to go about creating your individual web pages and how they need to work together as a unit.  A unified website plan based on the creation of individual web pages will be a BIG key to understanding the SEO puzzle. 
A simple plan is the best plan and a picture can paint a thousand words.  Take a look at the picture below to help you get a visual idea of what your website will look like from your point of view as a developer.  Each tier of pages will link to the next.  Tier two links are found on your home page in your sites navigation links or menu that are clearly designated for your readers to see.  Tier three pages are linked to from within the text of your tier two pages and to other tier two pages.

How many pages will I have to create?  I do not have months and months to spend on creating a website.  That is entirely up to you, but our students have found that between 10 to 25 pages is a good starting point.  Many find that 15 pages are ideal.  At a snails pace you should be able to build one page a day.  As you get more accustomed to the process, you will speed up and have fun building two to three pages a day.  
So, even if you are slow on the computer you should be able to build a professional massage therapy website within two to three weeks.  The more pages you add to your site over time the larger a target you become for google and other search engines to find your website.  More importantly, you will be building trust with your potential client from the moment they begin to read a page on your website.  An educated professional who can solve a problem for them with massage therapy.  SBI will help you with other tips and tricks to get your website noticed by your targeted audience, massage therapy clients.

SBI More than a Website Host

Site Build It from Site Sell is an all inclusive package for the massage therapist who needs a service oriented website to promote their skills. Web hosting company's do not care if your website brings in clients to your massage practice,  They do not teach you how to build a SEO website.  They will provide minimal technical support, but you will really need to understand the language and HTML to get any valuable help from them,  
SBI on the other hand is an online business building education that provides detailed website development as well as technical support.  The people who work for SBI really want you to succeed and will go above and beyond to help you reach your goals.  As experienced massage practitioners and massage therapy instructors, we recommend Site Build It for massage therapy practice building websites.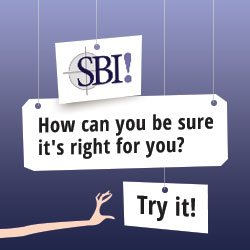 90 Day Risk Free Offer, give yourself 85 days to build your own online massage practice building referral engine!  IF SBI does not deliver the educational elements, hosting platform, analytical tools, that work for you ask for your money back.
Get Massage Smart is an Amazon affiliate marketer.  If you use one of our Amazon links to make a purchase we will receive a commission.

Affiliate Disclosure

Getmassagesmart.com is an SBI Solo Build It Web Site and a SBI affiliate marketer.  In addition to SBI getmassagesmart.com is a loyal2.com and Amazon.com affiliate marketer.  All affiliate products represented on this site are selected with careful consideration.   Affiliate products do not influence the content of this website. 
All affiliate marketing is highlighted on each and every page of this site that they are now and may in the future be found on.  These commissions help to maintain the website and keep information free of charge on this site.  Getmassagesmart.com partners with serious and reliable companies and often offers non affiliate alternatives in an effort to expand educational opportunities.
Copyright © 2009-2018 All Rights Reserved GETMASSAGESMART.COM