Review Therapist Web Hosts

For Your Therapist Web Site
We are here to review website hosts as you consider if building a therapist web site is a project you should or need to undertake?  It really does not matter if you are an out call therapist, have your own clinic or intend to do chair massage.  You will need to utilize the internet to connect with your clientele.
Have you heard the saying what came first the Chicken or the Egg.  Or the one that says do not put all your EGGS in ONE BASKET.  How about don't put the cart before the horse. 
No one can tell you what came first the EGG or the CHICKEN.  It is essential for a massage therapist to develop their own clientele and have an online presence.  Publishing your own website is not putting the cart before the horse.  Most importantly developing your own referral network is the best way to avoid putting all your EGGS in ONE BASKET.

Many websites struggle to find their way to the top of a search engine's web page. Free websites do not provide the additional tools and training needed to achieve this vital goal.  Take the time and spend some money on your website.  Only you can decide what the right cost to earnings ratio is for you.  FREE is good PROFITABLE is better.
Options 3 All-In-One Hosting from our article on Therapist Websites


Here is Our Review of Some of the Most Affordable All in One Hosting Solutions

Blue Host supports WordPress Templates.  Along with amazing low monthly fees they provide a free ".com" domain name.  They offer a range of included features such as unlimited traffic and 30-day's money back if you change your mind.  Great for HTML, CSS and JavaScript sites.  And most of all real, real time support for any kind of question or issue.
You may spend hours upon hours analyzing host after host never to find a better solution for the monthly or yearly hosting fees offered by Blue Host.  The same consideration comes with this host that you will find with every other host out there renewal fees will increase with your second year or 4th year, if you go with a three year package. 
Fat Cow also provides a free ".com" domain name.  They offer an extensive range of included features and their claim to fame is their use of renewable energy.  Probably the best part of hosting with Fat Cow is their driven attitude toward keeping up with the lasted technologies and frequently upgrading their services seamlessly. 
If you are using front page. they may be one of the only hosts that will have the ability to support their old outdated extensions.   That being said Fat Cow may be a better choice for those who already know how to use HTML or other coding options.  Many have complained of slow support and others have had problems with their Web Builder for beginners.
Siteground has easy WordPress integration, free domain name and unlimited traffic among other included features.  As you can see, as we continue to look at several solid online host providers, they all offer most of the same features give or take a few here and there.  We like Siteground because they have a good reputation for outstanding customer service, easy to use and provide servers located in three international regions.
An often overlooked part of the process is to read the host's terms of service to make sure that your site activities will not violate any of their terms.  These terms may include what content can be used, but more specifically they establish data usage, space limits, loading capabilities and many other technically specific terms.  We are an affiliate of SBI, our site is an SBI site and we chose SBI for its extensive educational resources, online forums and real time support services.  
We have spent years In the classroom teaching students the basics of massage therapy, but when it came to building a website we needed a little help.  Site Build It was that help.  You will know you have everything under control from their action guide to their video tutorials.
InMotion is not new to the scene and has a solid track record.  Yup easy WordPress integration, free domain name and awesome customer support. Unlimited disc space is a key ingredient for a content driven web site and most independent entrepreneurs will need to drive traffic with quality content. Inmotion advertises unlimited disc space, yet make sure your site fits their parameters before you move your site or sites.  Unlimited has limits with Inmotion hosting.
Weebly is good for therapists who wish to create their own website with an easy to use drop and drag website builder.  Weebly sites are easy to administer, a great place to start if you have no experience.  The dominate advantage can also be a bit problematic if you want to use SEO effectively on your site.    Weebly page structure does not and will not follow your page's file path.  Making it impossible for your SEO to lead to your subpages or even allow Google to find you.  SEO search engine optimized content is what drives independent targeted massage therapy web traffic to your clinic or massage office web pages.
SBI for WordPress provides all the education and support that Site Build It from Site Sell is known for.  You will need to choose a host and upload a WordPress theme to your chosen host's platform.  Then add the SBI for WordPress tools to guide you as you build an online presence for your massage therapy practice.
Our Review of Therapist Web Hosts

includes our choice SBI and SBI for WordPress
You may be thinking at this point "ok", I am beginning to understand the individual processes that go into developing my own massage therapy website to market my particular set of skills, yet none of this information tells me exactly how to build my own web site.  You're looking for help with the particulars.  We did the same thing when we decided that we wanted to extend our educational reach outside of the 3D classroom. 
That's were Site Build It from Site Sell came into play for us, it provided the step by step process to build our smart massage therapy educational online business.  Now that we have told you how we went about building a website, we will tell you how we came up with our reviews of the web hosts that we have listed here.
As you know there are countless web hosts and website builders available to choose from.   As a group of massage therapists, we still teach and practice within our own offices or multi-therapist clinics.  So we collaborated with each other to see what solutions we as a group had chosen to develop an online presence. 
What we found out was the foundation for our article on building a therapist website.  Some of the more mature shall we say members of the group had used Adobe Dreamweaver or Microsoft FrontPage to build a website with.  The information age has continued to move ahead and today most individuals wanting to build a web site for themselves can use hosting accounts that offer simple drag and drop website builders. 
Several had paid webmasters to build sites for them, hosting them on several of our above choices and GoDaddy domain, website building and hosting services.  We arrived at some of our feedback by talking to fellow career college instructors from educational IT and web development programs.   One adjunct massage therapy instructor worked part time at an office that had used a site that has created many websites for massage therapy and similar service oriented business structures called massage-therapy-websites.com. 
Massage-therapy-websites.com provides all the technical expertise,  beautiful templates to choose from, domain registering and hosting services.  A great option for many therapists looking for an all-inclusive solution.  It is important to point out that the client or therapist must supply all content for all of the pages that they want within their website including the home page.   So the decision is, do I want to pay someone to place my content within a template design I like and then pay them from time to time to update and improve the site?  For many, the answer will be yes.
The service can also integrate gift certificate sales, newsletters, loyalty programs, booking and pay now features.  The best of all possible worlds for the therapist who knows what they want to say on their website to bring clients to their door.  We agree we like this site a lot. 
We also like using the massage therapist website builders on the national massage therapy organization that we listed in our article "Build Your Own Therapist Website".  They come free with membership after all!  More to the point they work well for the individual therapists who is on a limited budget.  Many of us have our students begin to build their web sites while still in school now, it is usually a part of a class on the business of massage therapy.

How did We here at Get Massage Smart go about Choosing a Web Building and Web Hosting Solution?
By researching the internet for information on how to go about building a website, while brainstorming collectively on what we wanted our website to contain.  We began our project in 2009 and it has been growing in articles and pages slowly.  If you have spent any time looking at our site you will notice that many projects are still under construction.  We are still learning as we go. 
It was not an initial consideration to spend time talking about building websites.  As our world continues to change the internet, social media and digital communications have become such a prominent part of our lives, clinics and classrooms.  It seemed like a logical extension of our initial goals to add several pages about the business of massage.  Get Massage Smart has a mission to inspire a passion for touch and touch related therapies.  Massage therapy is a passion and every choice concerning the development of this site is based on the desire to pass our knowledge and passion own. 
Some of the sites that we used to get us started have gone by the wayside or changed considerably over the last 7 years.  Here are some of the most influential.  We found Lisa Irby to be very inspirational, well-spoken and well written.  She started out with Site Build It (SBI).  SBI was her first site, building experience.  Her current site 2createawebsite.com is a source of information, education and inspiration to the individual building their own web pages. Lisa shares her genuine like of WordPress websites.  If WordPress is a must have for your business than Lisa can help you get started.

Julie Onofrio's original web site the bodyworker.com (an SBI website) was a major source of inspiration.  Her current sites are well written and totally directed to the massage therapy student and licensed massage therapist.  Julie's site massagepracticebuilder.com will offer you excellent information on insurance billing, website building, marketing, business specifics, ethics, self-care and how to find a job as a massage therapist.  If you're just in the considering phase "Do I want to be a Massage Therapist?", then Julie can help you out with that as well. 
Another website that inspired us has changed its name from saveyourself.ca to painscience.com.  Paul Ingraham has been on an amazing journey, he offers a science based look at how pain science heals and the upside, as well as the downside of freeing one's self from pain.
Paul's passion for science and the written word, coupled with his background as a registered massage therapist in Canada has taught us to read multiple sources as we build our own educational offering on smart massage therapy to a global community.  His site programing skills, organization and clean presentation are something to take note of.  There is no doubt that his viewpoints offer insight into the world of pain, science and therapy as people strive to find ways to be comfortable within their own body's and themselves.  He has focused his talents as a writer, author, web developer, publisher and online business owner. We found Paul Ingraham through Julie Onofrio, our use of long winded articles has been influenced by Paul's personal style.  Thanks Paul! 
The last site that we want to talk about offers clean organization about do it yourself pain therapy, educational videos and has been an inspiration to our efforts is joint-pain-relief.com.  We offer Gary Crowley's video series on low back pain with our article "Low back pain! Massage is a Better Solution to Over the Counter and Prescription Drugs!"  Take a look at the article and go to Gary's website to see how he goes about helping relieve joint pain and body pain.  This is one of our original 11 web pages.  Joint-pain-relief.com is another SBI website that we discovered and chose to integrate Gary's efforts with his permission into our educational presentation.  So many individuals and websites have inspired our initial and ongoing steps into website publishing. 
A very obvious influence upon our website has been our experience as massage therapy instructors and online resources that we suggest that our students use as part of their learning process.  Getbodysmart.com has been on our collective list of internet resources for years.  It was certainly the inspiration for our choice of a web site domain name.  To see how we integrated getbodysmart.com into our educational process take a look at our muscles resources.  We are also active practicing therapists, those resources we provide for a wider expression of touch are just as important as those designed for the massage therapist. 

There are many options to choose from when it comes to building a therapist website.  Be careful with free websites, to get the results you are looking for, you are going to have to pay to upgrade.  Make sure you understand what those upgrade fees will entail before you start building a site.  Own your own domain name, register it yourself.  If you build your own site make sure you take the time to learn how to submit it to the top search engines. 

We understand that website innovation is moving ahead at warp speed.  Site Build It may not be for everyone.  We have been extremely happy with SBI and will continue to recommend them for those who have no previous website publishing experience.

SBI Professionals offer reasonable plans for those who prefer to have a site built for them.  In the end choose to build a therapist website or have one built for you, so take the time to "ask Site Sell Professionals a Question".  Take a moment and contact the SBI advisor team.  Consultations are absolutely Free.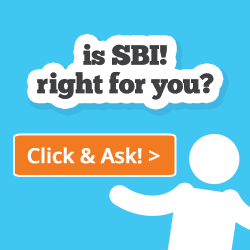 As we have mentioned before, we are an SBI web site and an affiliate.  We hope you have found the resources provided on this page engaging.  It may seem like we have gone out of our way to offer other options.  We know how hard it is to market a solo or small group massage practice.  We want every student and practicing massage therapist to have the best marketing tools available to them.
So, when you come to the conclusion that you want to use SBI or SBI for WordPress to build your own Therapist Website, consider coming back here and using our Order SBI Now link.  You need an online presence and as we move further into the 21st century, the ability to schedule clients online is a must have! 

Affiliate Disclosure

Getmassagesmart.com is an SBI Solo Build It Web Site and a SBI affiliate marketer.  In addition to SBI getmassagesmart.com is a loyal2.com and Amazon.com affiliate marketer.  All affiliate products represented on this site are selected with careful consideration.   Affiliate products do not influence the content of this website. 
All affiliate marketing is highlighted on each and every page of this site that they are now and may in the future be found on.  These commissions help to maintain the website and keep information free of charge on this site.  Getmassagesmart.com partners with serious and reliable companies and often offers non affiliate alternatives in an effort to expand educational opportunities.

Copyright © 2009-2018 All Rights Reserved GETMASSAGESMART.COM